A Message From Femi Disu-Oakley
Director of Diversity and Inclusion
The Legal Aid Society is proud to honor the contributions of the Latinx community and their extraordinary impact on our City.
The national observation of Latinx and Hispanic Heritage began in 1968 as "Hispanic Heritage Week" and was expanded in 1988 to cover a 30 day period, September 15- 30. September 15 is significant because it is the anniversary of the independence of five Latin American countries: Costa Rica, El Salvador, Guatemala, Honduras, and Nicaragua. Mexico, Chile, and Belize also celebrated their independence days on September 16, September 18, and September 21, respectively.
Every year, The Legal Aid Society recognizes Latinx Hispanic Heritage Month as a time to honor a diverse and vibrant community that makes up over 2 million people in NYC alone. Now more than ever we must advocate and protect the rights of those that are targets of racist and xenophobic attacks, destructive immigration policies, criminal profiling, and workplace abuse and discrimination. We will continue to fight to keep families together and protect the constitutional and civil rights of all New York residents.
We know that what makes this city great is its flourishing diversity and the presence of the Latinx and Hispanic community, and we are proud to continue our work in immigration, economic and criminal justice reform to protect and advocate for these communities.
Legal Aid Society at The Labor Day Parade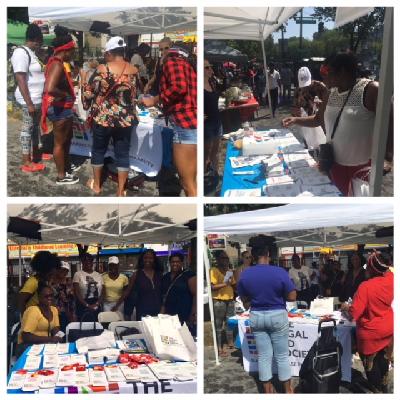 The Legal Aid Society joined in on the festivities at the West Indian Day Parade on Monday Sept. 3rd. LAS staff members spent the day distributing Know Your Rights materials and talking to community members about The Society's available services and resources. Thank you to all of the volunteers and visitors for being involved in this amazing community event. Hope to see everyone again next year!!
Legal Aid at Lavender Law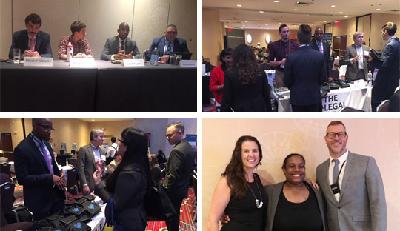 Last month, The National LGBT Bar Association held their 30th Annual Lavender Law Conference and Career fair here in New York City from August 8-10 The Legal Aid Society was proud to participate in this incredible event. During this national convening of litigation and advocacy experts, members of all three practices of our organization were on panels discussing our work.
Jared Trujillo and Michael Gibbons, criminal defense attorneys, joined other public defenders and civil rights attorneys to discuss litigation and advocacy of LGBTQI+ clients especially clients of color. Juvenile Rights Practice Attorney, Danielle King, presented on the crisis of the overrepresentation of LGBTQI+ youth in the juvenile justice and child welfare systems. Criminal Defense Practice Attorney, Rage Kidvai spoke on a panel that discusses Career Services and job strategies for Law Students. Our attorneys and supervisors recruited future public defenders and offered career counseling to law students at the Career Fair.
Jason Wu, Staff Attorney in the Harlem Community Law Office, was recognized by The National LGBT Bar Association as one of the "Best LGBT Lawyers Under 40" and was at the Best LGBT Lawyers Under 40, Leading Practitioners, and Student Awards Luncheon. To celebrate Jason, our staff participants in the conference, and to celebrate our community, The Legal Aid Society and Skadden Arps hosted a cocktail reception at the Marriott Marquis on August 9.
September 19th
6:00pm-8:00pm

Reading with Women Warriors of the Afro-Latina Diaspora

Sister Diaspora for Liberation and the Caribbean Cultural Center African Diaspora Institute proudly presents 'Meet the Authors' SDL Reading Circle gathering! Creators of Women Warriors of the Afro-Latina Diaspora: Dr. Marta Moreno Vega, Marinieves Alba, and Yvette Modestin have graciously answered our call for an intimate reading and will be sharing their favorite excerpts and signing books!
September 20th
6pm

One Year Anniversary of Hurricane Maria

Come out Thursday as we stand in solidarity at 6pm in Union Sq with @UPROSE and the entire #OurPowerPRnyc coalition for a community gathering one year from Hurricane Maria.
September 21st
5:00pm-8:00pm
East Harlem Neighborhood Health Action Center 158 E. 115th Street

El Arte de la Resiliencia

Join us for an Art Gallery event as we commemorate the 1-year anniversary of Hurricane Maria, reflect on the Health Department's deployment, and celebrate the resiliency of Puerto Rico. Activities include performances, open mic, and an art exhibition featuring drawings made by Puerto Rican students. Food will be served.
September 23rd
2:00 PM

Puerto Rico: Hope in the Dark – Screening and Panel Discussion

A moving portrait of the strength, spirit and resiliency of the Puerto Rican people. This documentary is a production of students at PACE University PACE docs, led by Maria Luskay, EdD. A special thanks to Shirley Acevedo Buontempo, Latino U College Access and Prof Luskay. September 23 is the last day of RELATIONAL UNDERCURRENTS: Contemporary Art of the Caribbean Archipelago exhibit, showcasing Caribbean artists
September 24th-27th

The Fourth Annual Official Latino Film and Arts Festival

The Fourth Annual Official Latino Film and Arts Festival is screening films in two different cities. In New York City we are presenting from September 24-27 and in the City of Coachella we are screening films from October 11-14. Tickets are on sale now. We have 9 blocks (screenings) of films in New York City and 12 blocks (screenings) in the City of Coachella. Usually a block contains an average of 10 films for a duration of 1 hour and a half. Get your tickets early as possible as some of the blocks get SOLD OUT fast. You may purchase tickets at the theater or location during the festival, but if the block to the film you want to see is sold out we will not be able to sell you a ticket. We strongly suggest to buy them in advance. Tickets are NOT transferable from Block to Block, for example if you buy a ticket for Block 4, you cannot use that ticket for any other Block. Any questions please reach out to us at info@officiallatino.com
September 25th
6:30 PM – 9:00 PM

Unpacking Immigration - Storytelling | Activism

In honor of Hispanic Heritage Month, and in partnership with The Wing, we are creating a space to stimulate conversation and generate action around immigrant rights. These topics will be heavy, and it's important to us that attendees of color feel comfortable being open about their experiences without having to provide the emotional labor of education or silence/downplay parts of their story. RSVP with this in mind if you are an ally. We welcome you, and need you to fight the good fight with us. Light bites and refreshments will be provided.
October 2nd
6:00 PM – 8:00 PM

"Resist" with Veronica Chambers

TREAT, the Teacher Opportunity Corps, New York City Men Teach, the Brooklyn College School of Education, and the Urban Community Teachers Project (UCT) present an evening with acclaimed Afro-Latina author Veronica Chambers as she discusses her new book Resist: 35 Profiles of Ordinary People Who Rose Up Against Tyranny and Injustice. Join us as we celebrate Hispanic American Heritage Month and learn new ways to empower our children to stand up for what's right. There will be door prizes, and refreshments will be served. An RSVP and ID are required to enter the venue.
October 6th
6:00 PM – 8:00 PM

First Saturday at Brooklyn Museum

For twenty years, Target First Saturdays have been the freshest place to kick off the month, thanks to great programming and our great community. To ensure the safety of all of our visitors and to comply with city fire codes, starting at 5 pm, visitors should enter through the front of the Museum. Please keep in mind that there could be lines for entry and that in order to comply with safety regulations we may have to limit entry when we reach maximum capacity.
Now—November 25th

Cecilia Vicuña: Disappeared Quipu

For millennia, ancient peoples of the Andes created quipus—complex record-keeping devices, made of knotted cords, that served as an essential medium for reading and writing, registering and remembering. New York–based Chilean artist and poet Cecilia Vicuña has devoted a significant part of her artistic practice to studying, interpreting, and reactivating the quipus, which were banned by the Spanish during their colonization of South America. Drawing on her indigenous heritage, Vicuña channels this ancient, sensorial mode of communication into immersive installations and participatory performances.