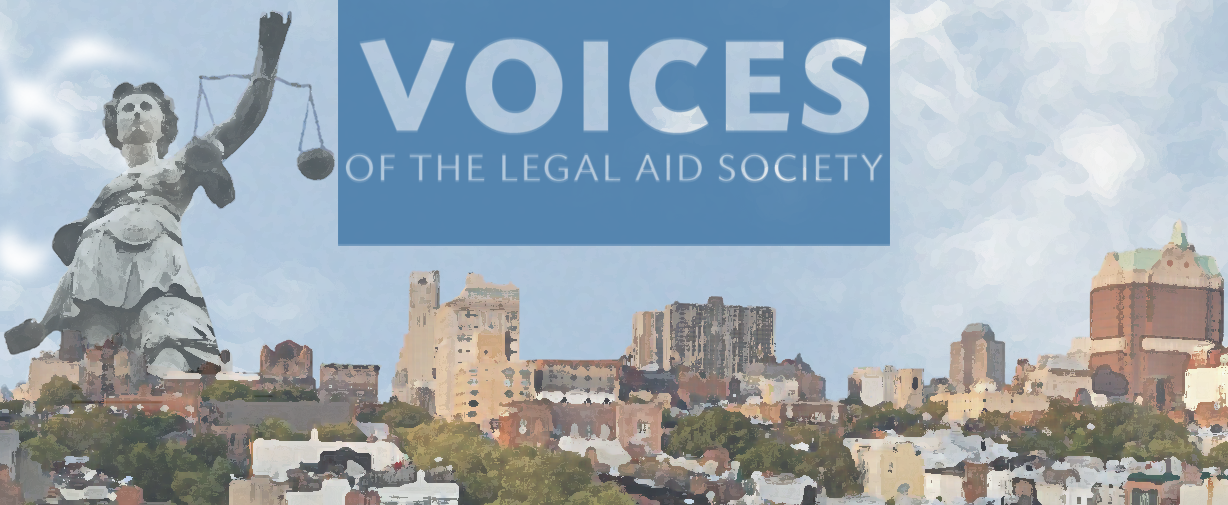 A monthly curated list of viewpoints from
The Legal Aid Society community
The Time is Right to Remove the Blindfold | Times Union
PHOTO: SPENCER LEE GALLOP | THE LEGAL AID SOCIETY
As Albany legislators begin to consider criminal justice reform, now is the right time to repeal our State's restrictive discovery laws, says Tina Luongo, Attorney-in-Charge of our Criminal Defense Practice. In this piece, Tina explains how these "Blindfold Laws" keep our attorneys in the dark and cost innocent New Yorkers their freedom.
Protests Against ICE in the Courthouses | NY Law Journal
PHOTO: CASEY DALPORTO | THE LEGAL AID SOCIETY
The Legal Aid Society joined other public defenders in protest outside of the Bronx Criminal Court this month after one of our clients, Aboubacar Dembele, was arrested by ICE agents at the state courthouse. This is just the latest incident of ICE agents targeting New Yorkers going to court, a practice that our own Casey Dalporto says strips these immigrants of their basic rights.
Challenging Genetic Stop and Frisk | NY Daily News
PHOTO: MF3D/GETTY IMAGES/ISTOCK PHOTO
A new technique used by the NYPD has drawn fire from The Legal Aid Society. The process, known as "Familial DNA Searching", uses genetic material at crime scenes to see if relatives of convicted offenders may be a suspect. David Loftis, the head our Forensic Litigation Unit, has criticized the program, saying that it builds off historically biased policing tactics and continues to target communities of color.
Fighting for Tenants in Need | NY 1
PHOTO: WILL PARKER | THEREALDEAL.COM
After a Bronx landlord repeatedly neglected his tenants' requests for repairs, The Legal Aid Society took action this month. With leaking pipes, roaches, and electrical fires causing panic attacks among tenants, we are challenging the offending landlord in court and demanding that he fix the conditions for these hardworking New Yorkers.
Fighting Against Secret NYPD Gang Database | The Legal Aid Society
PHOTO: SPENCER LEE GALLOP | THE LEGAL AID SOCIETY
The Legal Aid Society has joined the FOIL Yourself Campaign to challenge the NYPD's Gang Database. For years, the Police Department has used this database to allege gang affiliations on New Yorkers as young as 12 simply based on where they live or what type of clothes they are wearing. Anthony Posada of our Community Justice Unit makes the case against the database, claiming it is just another way for our justice system to target our city's communities of color.