Queens Chronicle | No Gas Since January Has Been a 'Nightmare'
September 6th, 2018
By Christopher Barca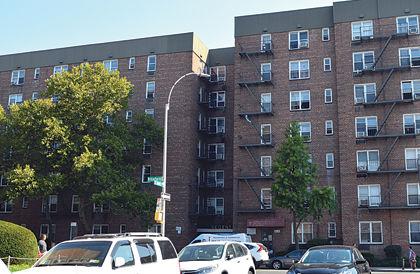 PHOTO: CHRISTOPHER BARCA
Fresh, home-cooked meals have long been out of the question. So has completing a load of laundry.
Maritza Zarzuela has lived at 83-45 Broadway in Elmhurst for 24 years. Carmen Flores has called the building home for 30.
But the last eight months have been by far the most trying time both women have had there.
"We've never had this major of a problem," Zarzuela told the Chronicle on Tuesday. "It certainly hasn't been easy."
Since January, the seven-story, 195-unit apartment building has been without gas, meaning tenants have been unable to cook or use the dryers in the structure's two laundry rooms for almost nine months.
Two weeks ago, a group of 45 fed-up tenants, represented by The Legal Aid Society, organized and sued the management company, Regent Equities, and the city over what they say is an agonizingly slow process of getting their gas turned on again.
"A lot of the tenants are regular families. They have budgets to work with. A lot of them can't afford to constantly buy premade food," Legal Aid Society attorney Nelson Yeung told the Chronicle on Tuesday. "I have heard stories of tenants with medical conditions and strike diets. In some ways, their health is at risk."
Flores said it was just after 5 p.m. on Jan. 3 that the gas shutoff occured — the retiree was in the middle of cooking dinner on the stove when the flame below the burner slowly died.
In the months since, she has resorted to either eating canned goods she heats in the microwave, making sandwiches or ordering takeout more times than her budget would normally allow.
"I live alone, so I make due," she said. "I even learned to how make soup and scrambled eggs in the microwave. It's not the same but it's all right."
Her biggest concern is not for her own well-being, she said. It's for the safety of the building's many families who have had to rely on hot plates to make their meals.
Regent Equities gave each tenant $25 toward the purchase of a hot plate. But both Flores and Zarzuela said large families need to use four or five at once in order to feed everyone in the home — something both women described as a fire hazard.
The latter woman added she and her daughter have relied on an induction cooking unit to prepare food, while she's heard stories of others resorting to portable propane appliances — Flores said one man using one recently started a small fire that required an FDNY response.
"We have a lot of elderly people living in the building. We also have a lot of kids," Zarzuela said. "I can imagine mothers have been struggling to fund proper nourishment for their children."
The electric bills of both women and many of their neighbors have also skyrocketed, as they have had to prepare food with electrical appliances instead of their stoves or ovens.
What's really killed Zarzuela's budget, she said, is doing laundry, as the building's dryers are gas powered.
While she is able to clean her clothes in a washing machine, she dries them by hanging her garments on makeshift clothing lines in her living room and pointing fans at them.
Sometimes, the Elmhurst woman said, it takes three entire days to sufficiently air out her larger items like blankets — washing and drying them at a laundromat, she added, costs her about $40.
"My electric bill shot up. I was averaging $80 a month but it went to $110," she said. "I have to leave the fans on overnight."
According to property manager Steven Goldin, Regent Equities had recently installed six new hot water heaters, six storage tanks and replacement gas lines.
But shortly after the gas lines were installed by National Grid late last year, Goldin said he smelled gas in the building's basement on Jan. 3. An investigation revealed numerous leaky pipes, both new and old ones, requiring a complete shutoff of service.
Goldin said the building's plumber then filed an emergency work notice with the Department of Buildings — which would allow work to be done before a regular permit is approved.
But after a tenant called the DOB to lodge a complaint about the lack of a permit, a stop-work order was issued, which Goldin says was a mistake by the agency.
The order was rescinded in February, but future work permit applications, Goldin added, were either immediately denied for "minor" errors or ignored entirely for weeks at a time.
"The DOB has been dragging its feet and rejecting the applications for various reasons," he said. "One time, it was rejected because the cost estimate was too low, so we resubmitted with a higher cost estimate.
"Our attorney has subpoenaed the DOB to produce records and an individual to explain why there were so many delays," he added. "We were ready, willing and able to proceed until the stop-work order forced us to stop."
According to city records, the DOB issued one denial in April, two in May, two in June, three in July and one in August — either for low cost estimates or paperwork errors — before approving the application last Thursday.
"While it is the landlord's responsibility to provide gas service to tenants, DOB works diligently to bring owners into compliance with gas-safety rules," agency spokesman Andrew Rudansky said in an email to the Chronicle. "A permit to correct extensive illegal gas work at this building was approved last week."
Asked when gas could be restored to the building, Goldin said it remains impossible to tell at this point.
"There are many gas lines that we've tested so far that are good and some are not," the property manager said.
Regarding a perceived lack of communication with tenants, Goldin said he posted "eight or nine" notices across the building between January and June before stopping.
"I felt there was nothing left to say, there were no updates," he said. "I would just be repeating myself."
The lawyers for The Legal Aid Society and Regent Equities will next appear in court on Sept. 26.
But a number of families have already moved out of the building, Zarzuela and Flores said, because they've simply had enough.